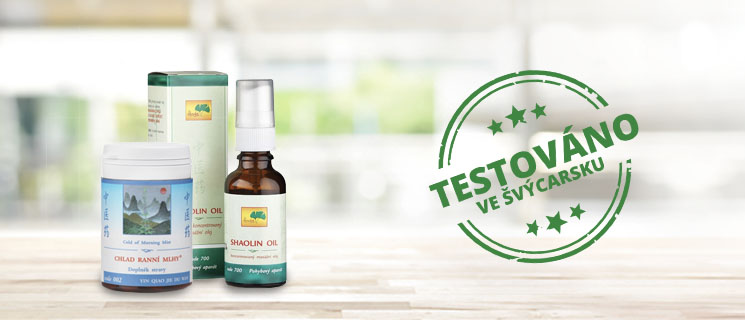 Special emphasis is placed on the quality and safety of TCM Herbs products. Great attention is paid to the entire production process. Below is a comprehensive range of inspection and approval processes all of our products are subjected to before they reach the market.
Belgian supplier
Approval by the National Institute of Public Health (SZU) and the Ministry of Health (MZ CR) on the health safety of herbal tablets.
Our company prides itself on using only one supplier of herbal products to produce its products. It is the Belgian company Medichin, which imports all herbs, or concentrated herbal powders, from the company Ming Tong Pharmaceutical Co. based in Taiwan. This Taiwanese company has been on the market since 1938, and it is one of the oldest and highly reputable companies in the area. The entire production process is subject to strict laboratory control.
The Belgian company Medichin subsequently produces herbal tablets and herbal drinks from these concentrated herbal powders. The herbal powder concentration is determined in a ratio of 5:1 (1g of herbal powder is made from 5g of raw herbs in Taiwan). All these products are made without the use of synthetic additives, as a binder for the tablets, natural microcrystalline cellulose is used. They are therefore 100% natural herbal products. The manufacturer notes that each herbal batch may have a different colour, taste and smell under certain circumstances (because they are not modified but purely natural products), but will always have the same effect.
How we test
Each herbal batch (187 types of herbs) is tested by Medichin in the renowned accredited laboratory Phytax in Schlieren, Switzerland, for the identification of herbs, heavy metals (mercury, cadmium, lead, arsenic, copper), bacteria (E. coli, Salmonella, total bacteria), fungi and yeasts (aflatoxins B1 and total aflatoxins) and for 511 pesticides (organochlorine, organophosphorus, pyrethroid, nitrogen and other pesticides). Herbal drinks (under the codes 822, 844, 850, 888, 900) and herbal powder products (under the codes 009, 050, 198, 199, 200) do not contain any chemical additives and substances. Herbal tablets contain natural cellulose (up to a maximum of 1%) as the only binder. All our herbs are not ionized, gluten-free (except the codes 025 and 113), nor aristolochic acid. The manufacturer notes that each herbal batch may have a different colour, taste and smell under certain circumstances (because they are not modified but purely natural products), but will always have the same effect. Vials in which the goods are packed are filled with non-toxic PU foam.
It's not a laboratory like a laboratory
In addition, TCM Herbs is the only company of its kind on the European market to subject all herbal batches used to produce products, whether herbal tablets or beverages, to rigorous testing for 511 types of pesticides, increasing their number continually depending on the amount of new pesticides being used. We consider the global problem of pesticide use to be more than alarming. That is why we pay particular attention to this control and we perform it to the extent beyond the scope stipulated by Czech regulations.
The quality and safety of our products is an absolute priority for us, so we incur significant testing costs for each batch and each herb, again in addition to routine testing. This is related to the seemingly higher price of our products on the European market. However, we consider the guarantee of the highest product quality to be absolutely crucial. One of the important principles is that our products are made exclusively from concentrated herbal powder, which is safe to import. It eliminates the risk of contamination of the powder by fungi or its treatment with sulphur or pesticides, as is the case with imports of raw or dried herbs. In addition, they are very demanding for storage (e.g. individual constant temperature or humidity for each herb – different for roots and flowers).
In terms of quantity (the concentration of herbs in the mixture is 5 times higher than that of dried herbs; i.e. 1 gram of herbal tablets corresponds to 5 grams of dried herbs) and quality (absolutely unprecedented testing of each batch), TCM Herbs herbal tablets and beverages are among the high quality and proven products on the Chinese and natural medicine market in general.
Approval processes in the Czech Republic
TCM Herbs s.r.o. products are approved by the following institutions in the Czech Republic:
State Institute for Drug Control (SUKL) – assesses the classification of products as pharmaceuticals or food supplements

National Institute of Public Health (SZÚ) - expresses its opinion on the quantity of herbs contained, thus guaranteeing the safe effect of herbs on the human organism. It expresses its opinion on the quality of the products, which includes single toxicological examinations for heavy metals (mercury, lead, cadmium, arsenic) and examinations for bacterial contamination (E. colli, Salmonella and fungi). Approves all data on the product label.

Ministry of Foreign Affairs of the Czech Republic – issues a consent (the so-called HEM) according to the provisions of Section 11 para. 2 letter b) point 3 and para. 4 of Act No. 110/1997 Coll., on food and tobacco products and on amendments and supplements to certain related acts, as amended, with the placing on the market of foodstuffs intended for special nutrition (food supplements). Based on the approval of SZÚ, the Ministry of Health of the Czech Republic notifies cosmetic products.

National Institute of Public Health, National Reference Centre for Cosmetics – tests and approves cosmetic products such as regenerating creams, patches, shampoos, sprays.
Our TCM products are further controlled by:
Czech Agriculture and Food Inspection Authority (CAFIA) - takes samples of products for determination of heavy metals, bacteria, molds and aristocholic acid, supervises the correctness of the data stated on the labels.